Melbourne Removalists
Trusted Furniture, Office & Home Removals
Home Is Where The Heart (And Coffee) Is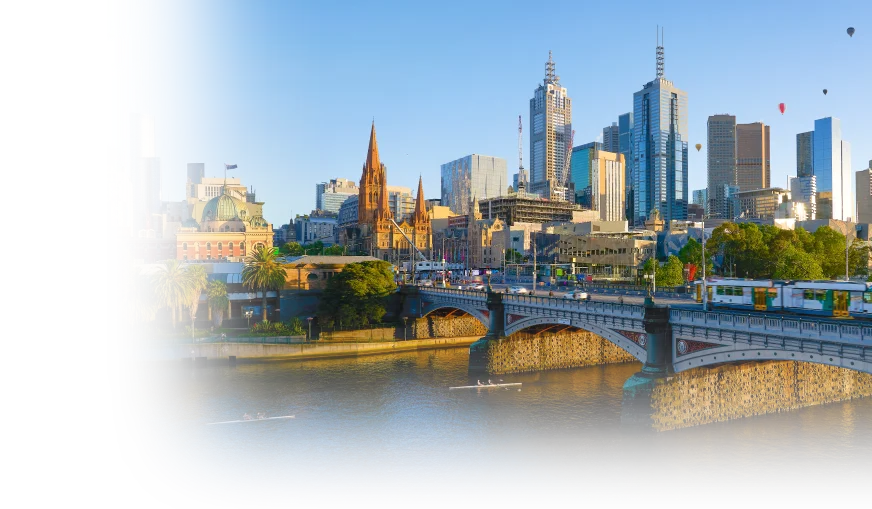 Time to get moving! With no hidden fees, Top Removals are the most reliable (highest rated Melbourne Removalist) and hassle-free way to move around Melbourne, Victoria and interstate. Long recognised as one of Melbourne's top furniture removal companies, we'll move anything you need (almost) – from a stuffed teddy to a grand piano!
With over a decade of experience, we take removals seriously so you can relax while we execute a seamless move. Plus, the entire move is fully insured for total piece of mind. From Degraves to Brunswick Street, Williamstown to Oakleigh and all the way to Kakadu National Park – we've got you covered.
First, you'll get a free inspection and quote with clear, upfront pricing. Next, we'll send you exactly what you need – a small van, a large truck, one removalist or 3! You'll then get the very best personalized service tailored to your needs with end-to-end packing and unpacking, furniture assembly, and disassembly services. Finally, you'll call up your mates and rave about the easiest, smoothest move you've ever had – honest, fair, and impeccably professional.
10 Reasons For Choosing Top removals in Melbourne
The best, highly trained removalist specialists in the industry work at Top Removals
Free, no-obligation over-the-phone/email/on-site inspections to provide detailed quote
We own our own fleet of trucks from 4 tonne to 16 tonne and everything in-between
Each truck is stocked every morning with its own toolbox, blankets & materials 
We can move anything with care
With 10+ years of experience we know how to move any item with extra care.
In case you're in need of storage we can provide fully secured storage solution short or long term
We can dismantle/disconnect, reassemble/reconnect furniture/appliances
We have the highest number of returning clients in the industry
We specialise in all relocation aspects, are insured and move residential and commercial locally and interstate
Melbourne Removalists: You're In Safe Hands
10 years is a long time to get good at something, and TOP REMOVALS is testament to just that. We wear our experience like a badge of honour. When it comes to removals, we've seen it all – so YOU don't have to. We proudly stand behind our industry expertise, multiple customer service awards, and our hundreds upon hundreds of glowing online reviews on trusted sites like Google, WOMO and Oneflare.
Getting a quick or comprehensive quote for moving, packing or storage has never been easier. Simply click below to get started.
Real Experts
in Real-Time
Ah, the wonders of modern technology. Computers are great aren't they? That is, until you have to have a conversation with one. Which is why when you call TOP REMOVALS you speak with a real-life removals expert, not Digital Dave.
Whether you want some advice – or you have a question or issue on the day of your move – our trained team of industry professionals are local, friendly and knowledgeable. We tailor our service to the individual – for the few, not the many.
Big, Small (and Everything In-Between)
First impressions last a long time, so we want to make sure you get the right one from us. Our swanky truck design makes TOP REMOVALS a must have for any driveway, no matter what the season. But it's not all show and no go.
From modest student digs to cavernous 5-bedroom family homes, we offer a full range of truck sizes suitable for any job, no matter how big or small. Starting from 20 cubic metres or less – all the way up to 65 or more – our range is not just extensive, but cost-effective too.
All-Round Good Blokes - Removalists Melbourne
Introducing the stars of the show: our removalists extraordinaire. We don't just hire muscle at TOP REMOVALS – we look for problem-solvers, Tetris-fanatics, eternal optimists and general all-round good blokes.
Marvel as our trained and experienced removalists dance with your heavy furniture, dodge around beloved pets and stray children, shrug off unpredictable Melbourne weather and charm your family, neighbours – even building managers!
Lee K.
★★★★★
My 5th move with these legends, I wont use anyone else. Top Removals for life! xo
Response from the ownerThanks Lee! We alway love helping you with your moves:)See you soonTop Removals team
Amit D.
★★★★★
We moved into our new house with the great service of Sam and Theo (The French boys) already recommended them to my friend who is moving house soon!!!
Response from the ownerThanks, Amit ! Glad we could give you what you needed.Many thanks,Top Removals
an D.
★★★★★
Thank you Felipé and Santiago for all your hard work. Check out how these guys maximised space using Tetris technique! Huge effort, much appreciated!
Response from the ownerHi An! Thank you so much for the amazing review! 😊 Glad to hear everything went so well on your move day!Kind Regards,Top Removals team
David W.
★★★★★
Had Sam and Adam help us move from a steep site at Mount Eliza. The access is poor but they did a fantastic job. Highly recommend them, couple of hard working friendly guys.
Response from the ownerThanks for the lovely feedback, David! It was our pleasure helping you out :)'till next time,Top Removals team
Friendly M.
★★★★★
Wonderful. Recommended to family and friends.
Response from the ownerhanks a million for the review! Awesome to hear you had the fantastic experience we always try for :)Many thanks,Top Removals team
nicole B.
★★★★★
We used Top Removals to move house within the same street and the guys were amazing. We were not well organised and the guys totally fixed up my mess, even helping pack some stuff as we moved. They were very careful and left no damage or marks, and couldn't do enough to help. I would definately use them again.
Response from the ownerAwesome! Thanks for the glowing review ____:)Kind Regards,Top Removals team
Mari F.
★★★★★
Friendly, easy, helpful. Great communication throughout, great pricing and flexible. Can't get better than that when it comes to moving!
Georgia H.
★★★★★
Patrik, Christofer, and Gotye were fantastic during both packing and removal. Friendly, diligent, punctual and extremely hard working, making our decision to use top removals for a 3rd straight move a no brainer.
Britney P.
★★★★★
Top Removals were fantastic to deal with. They were on time and careful with our belongings.

Thank you Daniel and Patrick for all your hard work! You guys are great! We will definitely recommend you to others.
Pearl T.
★★★★★
Fantastic guys moved us today. So friendly and careful with our belongings and my home. Highly recommend them. Reasonably priced and was able to book on quite short notice too.
Melbourne Service Locations
Get an instant moving quote in less than 1 minute!
Other Services in Melbourne
The Top Removals Lifestyle
See how our removalists spend their free time and how they get fit for your next removals project